How Much Does Internet Cost?
In old days, it was the dial-up internet connection that aided in accessing the web. But now, customers have many options for high-speed internet, which includes; fiber optics, cable, satellite, and DSL. Internet customers always look for more options as well, but that concern somehow doesn't clear if what you're paying is the right price you should be paying. So how much does internet cost in actual?
Whether you've been with the internet service provider since years or you're about you've moved to this new place but have the same high-speed internet provider – understand if what you are paying and what you have been paying is what you should have actually been paying:
How Much Internet Speed You Actually Need?
komando.com
Internet speed is generally measured in megabits-per-second (Mbps), and the more speedy connect you seek, the more you have to pay. The average internet cost an average American citizen pays for using 10 Mbps internet speed is about $34.99 per month. The more speedy your high-speed internet is, the more you'll pay; 30 Mbps on average costs $54.97 per month and 100 Mbps should mean paying $69.99 per month.
The usage of internet on average also varies as per persons need. If you just want to check emails and browse around for a while, you will need a speed of 6 to 10 Mbps for the month. And if your interest lies in playing games, streaming videos, and watching HD movies, then you need more speed. Read below to figure out your need of internet and then you finalize the cost you should be paying for subscribing to an internet package.
You Location Effects on How Much Does Internet Cost
If you locked down on much internet speed you need, your next step lies in searching for the right internet provider in your area. Remember that your location does play in for the cost of internet deal or any other service plan you take. The average an American pays for the internet ranges from $34 per month to $41 per month. If you reside in the west coast side or the northeast, you will end up paying about $3.5 per Mbps. While living in the southeast, south, Mid-west, or the Mid-Atlantic, there are chances that you will be paying roughly an amount of $3.75/Mbps per month.
Public Utility Firms Offering Better Internet Price
Almost 150 cities in the US have internet services provided by the public utility companies. They offer competitive yet cheaper internet service. The speed of the internet provided by these companies is even good as 50 Mbps to higher sides. When you search for a high-speed internet provider service, remember that the prices are subjective to changes. There's another important thing, the cheapest internet service may not be the best internet offered to you – the can be doubtful.
Do your research and ask your neighbors and friend to help you decide for the service package and choice of internet provider. The customer reviews on the official websites also help to analyze the deal. Take your time and then chose what suits your best, after all your internet service and its speed are all that you're counting on.
How Much Does Internet Cost by Spectrum?
In the last few years, the Spectrum Internet™ service has managed to retain its spot in the Top 10 ISP listings in the U.S. on account of its stellar (overall) performance ratings. And honestly, this hasn't come off as a surprise for many people in the 'knowledge of things'. And Spectrum users – ask any one of them – simply know this fact to be true!
After all.
How many ISPs are there, that not only provide consistent bandwidth rates in the 60 to 100 Mbps downloading/uploading range, but also offer some of the cheapest monthly subscription rates in the consumer market today?
As any seasoned marketing analyst would relate, when great costs meet great value (within the guise of a particular product or service), you know that you've found yourself a winner!
And there aren't many winners like Spectrum Internet™ out there… (Let us tell you).
Consider this:
For only $49.99/month (for Year 1), you can enjoy up to 100 Mbps Internet speed with Spectrum internet services.
What Else is on the Table?
And what's more, none of Spectrum subscriptions services (be it its Internet, Cable TV or Digital Phone plans) come with any term-contract formalities. This means that you can choose to bail out on your subscription at any time that you want, without having to pay an early-termination fine. Plus with every Internet plan from the company, you get an FREE WiFi Modem, and round-the-clock antivirus protection that protects all your connected devices from hackers and malware.
If you're interested in combining your basic Internet service with Cable TV and Digital Phone services (in addition), then Spectrum got a range of cost-effective home entertainment solutions for you in the form of its 2-in-1 & 3-in-1 bundle packages.
Now if all that doesn't sound great, we don't know what will!
You've Got Some Decisions to Make
So if you've finally decided to leave your boring, old & lackluster Internet service behind you – that only ever manages to scrounge away on your wallet, and doesn't deliver on steady service when you most want it to – it's time to pick up the phone and place your order.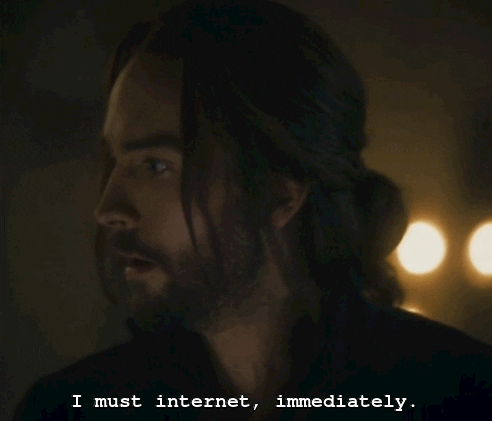 Our dedicated sales team can be reached through the telephonic hotline number mentioned on top of this page, and will see to it that you get an Internet plan that fully caters to all your entertainment & connectivity needs.
And which fits your budget, of course.
With Spectrum Internet™, your days of Facebooking, Tweeting, Netflixing, and Gaming (and sheer web-surfing bliss) await! And since there's no lag in loading and continuity, you can continue the entertainment.
Are you ready to meet them?
Disclaimer:
Although all requisite efforts have been made to procure owner/publisher approval for the images used in BuyInternetCable.com Blog posts, we apologize (in advance) for any unintended and/or uninformed copyright violations still incurred therein. If you feel that your material has been used without your tacit consent, please feel free to correspond with us through
Contact Us
page.