In a world dominated by streaming services and cable connections, there are still some good options to enjoy free tv, movies, and other forms of video content. Among other options, Xumo TV is one of the best platforms out there. It is legit and has ample entertaining content for you to follow.
There are more than 190 channels, an extensive library of films to watch for free, and plenty of other reasons for you to check it out. In this blog, you can read about everything you need to know about the Xumo TV app, how to access the free platform, what to expect, what channels are on it, and much more.
What Is Xumo TV?
Xumo tv started back in 2011 as a joint venture by Viant Technology and Panasonic. Xumo was later acquired by Comcast and is now working as a collaboration of two cable giants, Cox and Comcast. Unlike most subscription-based services, this online TV platform is supported by advertisements.
A lot of people don't know of the platform. Still, it was boasting 10 million plus monthly users of Xumo tv channels back in 2020. These numbers are expected to have increased over time but the company has not disclosed any user figures. With 75+ partnering networks, the platform offers different genres of content for your streaming preferences. You can catch up on the news, sports action, films, dramas, and more.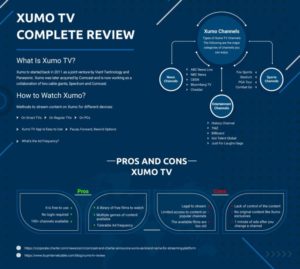 How to Watch Xumo?
There are several ways you can stream content on Xumo. And the best part is that most of these methods are surprisingly super easy to use. In fact, they are so easy that it feels almost illegal. For starters, you need to insert your credit card details since it is free to use. Plus, you don't even need to log in to watch Xumo channels. No need to create an account with your email and password for login. All you need is a good internet connection and a device to stream on.
You can enjoy content on Xumo by downloading the application on smart TVs, regular TVs paired with Amazon Firestick (or other devices of similar nature), PCs, and smartphones. Streaming on all these platforms is easy to do.
The following are the methods to stream content on Xumo for different devices:
On Smart TVs
If you have a smart TV, streaming is really easy. You can find the Xumo tv app from the store and download it for free. You can stream all the content you want by simply downloading the app and opening it.
On Regular TVs
For TVs connected with a smart device like Google Chromecast, accessing Xumo is not a problem. You can use your WiFi connection to visit the official website to enjoy uninterrupted entertainment from the official website. It is advisable to check out Xumo channels on television at least once because they are free.
On PCs
Streaming content on Xumo is quite straightforward to do, by far the easiest. Just visit the website and you are sorted. However, Xumo is available is mainly available in the US, the UK, and a few countries of the EU. Users from outside the US can stream Xumo by using a VPN connection.
On Smartphones
Video streamers who have used Netflix, Prime Video, or any other streaming service, won't find much trouble accessing Xumo. They may even find it easier to get started with compared to other apps. Just look for the Xumo TV app on the App Store if you own an Apple device or search for it on the Play Store on android devices. Install the app and enjoy Xumo movies or whatever else you want to watch.
Xumo TV App Is Easy to Use
Usually, the interface of free video streaming platforms is not the most user-friendly. Especially when you are streaming illegally, the interface is full of redirect and ad landmines. Comparatively, the app has a very user-friendly design. The functionality and design feel similar to most mainstream paid video content streaming apps. It does not feel outdated at all, and you are likely to get used to it.
When you open the website or app, you can see 190 channels lined up in front of you. You can easily scroll to the channels you want to watch. Watching all these channel icons and names can be a bit confusing. But the platform gives you the option to select your favorite channels by clicking on the heart icon. This way you will not lose track of the channels you prefer to watch. You can see five icons at the bottom of your screen. These are "On Now", "On Demand", "Movies", "Search", and "Settings".
It is best to familiarize yourself with all the icons and see where they lead to. As mentioned earlier, the interface is very easy to use. So, the chances are that it won't take long to master the use of Xumo. A quality of the platform that stands out is how the videos play. The video window is similar to YouTube. Also, skipping ads is similar to how it works on YouTube. You can see how long the ad will play and the skip ad option is on the right side.
Pause, Forward, Rewind Options
A difference you may notice on Xumo compared to other live tv applications is the control of your experience. You do not get the type of functionality like pause, play, forward, and rewind. So, it kind of feels like streaming cable channels with these Xumo channels.
What's the Ad Frequency?
A question a lot of people ask about free streaming platforms is the ad frequency. Many ad-supported platforms have so many ads that it gets super annoying. A good thing is that's not the case with Xumo. The ad frequency is tolerable. Comparing the ad frequency more or less with what you encounter with YouTube won't be wrong. You will probably see two ads of thirty seconds duration in each advertisement slot.
When you are continuously watching, you will experience ads at different times, similar to YouTube. Also, when you change the channel, you are likely to see 2 ads every time. In the meantime, you can check notifications on your phone and adjust your posture.
About Xumo Channels
With 190+ channels coming with free streaming, you might speculate that are there any good ones too. There are many recognizable channels that you may have on Cox TV plans or other reputed cable providers. For example, you can stream channels like Bloomberg TV, NBC News, GQ, and TMZ. So, it won't be wrong to say that Xumo gives you a kind of cable alternative, but a limited type.
Some Xumo channels allow you a similar experience to their original cable channels. Whereas others don't allow live tv like cable. For instance, you may get small videos of popular shows instead of complete episodes. Sometimes clips of popular shows like Pawn Stars can be found on Facebook, and YouTube too. For such shows and more popular cable-oriented channels, the experience can significantly vary from the cable alternatives. With that said, there's still an extensive library of channels that you can enjoy.
Types of Xumo TV Channels
One of the best ways to get an idea of what channels and types of content you can expect on Xumo is to divide them into genres. A complete list can be confusing as you may not know about most of the channels on the platform.
The following are the major categories of channels you can enjoy:
News Channels
Xumo is quite dependable to catch up on the news of happenings around the world thanks to the range of options it offers. Some of the major news channels on the platform are the following:
ABC News Live
NBC News
CBSN
Bloomberg TV
Cheddar
Many of Xumo tv channels of the news category allow live streaming on their own websites. However, the convenience of having multiple channels just a few clicks away adds significantly to the convenience.
Sports Channels
Sports is another famous genre of entertainment that Xumo covers. You can enjoy your favorite sports on the channels given below:
Fox Sports
Stadium
PGA Tour
Combat Go
You can get sports highlights and even matches on these channels. There are plenty of others besides the ones mentioned here.
Entertainment Channels
If you are not a news or sports person, you can still find entertainment of your taste on Xumo tv channels. Here are some of the entertainments channels you can stream:
History Channel
TMZ
Billboard
Got Talent Global
Just For Laughs Gags
Other than these, you can go watch several other entertainment-packed channels. You will find designated channels for cooking and recipes, channels for toddlers and preschoolers, fashion-oriented channels like GQ and so much more on Xumo.
Collection of Xumo Movies
You can watch these movies whenever you are in the mood to check out undiscovered gems. The only problem is that most of them are old and not very popular. You are likely to find films from the 90s and some new indie films that you didn't know about. The reason for such a limited collection may be the model of the company that supports content via ads. Paid services have the type of budget to show blockbusters from a year or two ago. Not to mention these platforms have their exclusive films too. So, demanding Xumo movies to be as good as paid services won't be realistic, or fair.
However, it doesn't mean that movies on the platform are not good enough. You may find some star-studded films like Hideous Kinky by Kate Winslet and Without Evidence by Angelina Jolie. So, just give these movies a try.
What's More?
Even though it's a free platform, Xumo is still getting some solid additions in the future. Earlier this year, Xumo signed a deal with iHeartRadio that will allow Xumo to offer radio stations from the iHeart network. Users would then be able to stream rap music, music from the 90s, and more. Such future additions will make the platform more engaging and entertaining. It is expected that in upcoming years, the platform may become a complete entertainment powerhouse.
The Pros and Cons Xumo TV